Wellbeing Award for Oakway Academy!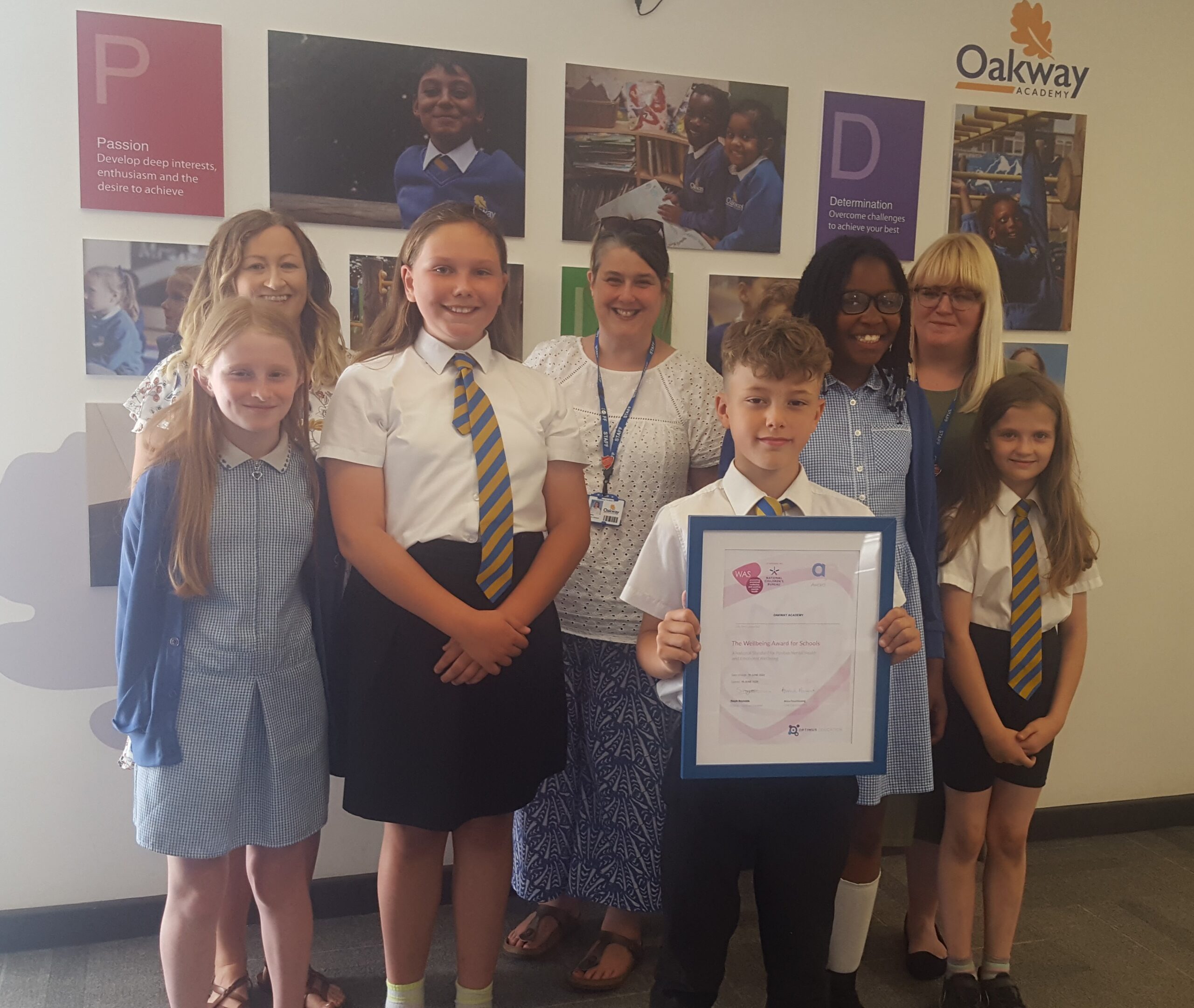 Congratulations and Well Done to Oakway Academy for achieving the Wellbeing Award for Schools!  This mark recognises the Emotional and Mental Health support that is embedded in the school by reviewing the culture for both staff and students, and recognises that mental health and wellbeing sit at the heart of school life.
"I am delighted that we have been recognised and have achieved the Wellbeing Award for Schools. Although we were doing this work already, having the framework to pin it on has been really helpful and supportive and has ensured this work has stayed in the forefront, which could not be more important in current times. We are lucky to belong to such a caring and welcoming community who all want the best for our children and each other."  Principal – Mrs Byron
In the final report the reviewer stated:
"The school's vision and value statement, describes fully what the school believes in, and it is evident that this is put into action every day. EWMH permeates everything they do at Oakway Academy. The approach to EWMH is proactive and embedded in all areas of the school. EWMH is strategically evidenced in the school's development plan and policies and there is a real sense of all the staff working as a team.

The school had a happy and welcoming 'feel', that is impossible to quantify. The staff and pupils exhibited a real sense of caring for each other.

EWMH is not an 'add on' at this school, it is part of school life, learning, and it goes beyond the school gates. The pupils talked about being supported by staff and caring for each other. Families are supported with many different aspects of their lives, all of which, impact on the EWMH of the children and the community, for example: a dedicated welfare team for families, signposting to advice and services, financial support for uniforms and school trips, support for new parents during the induction period, private health care professionals commissioned when necessary. One parent reported that she 'never feels alone, the school is always there to support her and her children, she doesn't 'ever feel judged'.

Staff, parents, and pupils, all praised the school and the ways in which it supports the positive EWMH of everyone and has systems in place when individuals need help. The whole school community is regularly consulted on their views and are encouraged to share them and seek help when required."
Thank you to those parents who took the time to complete the surveys when they were sent out and also to those who came and met with the assessor.