Mrs Victoria Bishop  –  Chief Executive Officer / National Leader of Education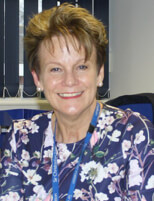 Mrs Bishop, has nearly 40 years of experience in education in Leicestershire and Northamptonshire secondary schools, she started her career as a Geography teacher and has been a Head Teacher since 2004. She is currently Executive Principal and CEO of Hatton Academies Trust.
Mrs Bishop is a published author of several GCSE and A Level textbooks including one book as a sole author, Mrs Bishop's accomplishments include:  Principal Moderator for GCSE Geography; one of only two subject leaders selected at national level to be on the working group for subject leader standards; a member of the National School Forum for TeachFirst and a member of ASCL National Council.  Mrs Bishop has also worked as a School Improvement Partner, a Lead OFSTED Inspector and Northamptonshire Partnership Headteacher.
Mrs Bishop has a strong passion for education and a record of high achievement, and has been the Headteacher/Principal of Sir Christopher Hatton School/Academy since January 2004 and has worked hard to raise the expectation and aspirations of its pupils, leading the school through four inspections. In January 2015 the Academy was graded 'Outstanding' by Ofsted.  In September 2015 Sir Christopher Hatton Academy was awarded National Teaching School status and National Support School status with Mrs Bishop a designated as a National Leader of Education.
Mr Andrew Wilson – Head of Secondary Standards
Mr Wilson began his career as a Mathematics teacher in 2002 and had worked in Warwickshire, The Isle of Wight and Northamptonshire.
Early in his career, he was encouraged to apply to Fast Track Training which provided extensive leadership developments at an early stage.
Mr Wilson joined Sir Christopher Hatton Academy in January 2007 as Head of Maths and was instrumental in developing an outstanding team of Practitioners alongside a rapid and sustained increase in results.
A member of the National panel for Secondary Mathematics Mr Wilson has retained an ongoing passion for mathematics and education.  More recently Mr Wilson has been Vice Principal Director of Standards and Associate Principal, he is also a PIXL Consultant supporting other Secondary Schools.
Robert Hardcastle – Head of Primary Education
Mr Hardcastle, has worked across Northamptonshire for the last twenty two years.
He has a passion that all children from the locality receive the very best education. With experience in a range of roles from Class Teacher, Year Coordinator, Subject Coordinator, Advanced Skills Teacher, Deputy Headteacher  and for the last six years, Headteacher of a large primary school in Northampton. Mr Hardcastle has a track record of successfully improving schools.
In 2016, Mr Hardcastle was shortlisted for the Pearson Teaching Awards in the category of Primary Headteacher of the Year.
He led his previous setting, Whitehills Primary School, through its inspection in 2015.  It was recognised as being Outstanding by Ofsted in every category.
Mr Nick Salisbury – Teaching & Learning Advisor / Science SLE
Mr Salisbury began teaching in Northamptonshire in 2002. His first role in management was as second in Science at a rural Hampshire school. In 2006 he became Head of Science at an inner city school in Southampton. Since progressing into management, he has done considerable outreach work with other schools.
From 2009 to 2013 he supported newly appointed heads of science in departments across the city of Southampton in conjunction with the LA Science Coordinator. During his time as Head of Science in Southampton, he became the lead teacher for OCR for the Southern region, supporting the exam board in delivering the gateway science exam syllabus.
In 2013 Mr Salisbury joined Sir Christopher Hatton Academy as Assistant Principal with responsibility for science. The following year he was appointed as Senior Assistant Principal with responsibility for standards and progress of students across the curriculum. Mr Salisbury is currently Vice Principal for Teaching & Learning supporting Middle Leader Training for the Hatton Teaching School Alliance.
Mr Salisbury has experienced 6 Ofsted inspections (3 in a leadership capacity)and has  recently facilitated the SSAT National Award for Middle Leaders (NAML) training.
Mr Alastair Mitchell – Closing the Gap / Curriculum Advisor / Maths SLE
Mr Mitchell is a Secondary school teacher with over 15 years' experience, having taught in a variety of settings ranging from schools with Ofsted gradings of 3 to schools with Ofsted gradings of 1.
He has taught maths across all secondary key stages and was Head of Maths for 10 years.
 Mr Mitchell is a Vice Principal at Sir Christopher Hatton Academy and has helped the school gain its outstanding grading by delivering outstanding outcomes at KS4 and KS5.
He has also helped shape the curriculum offer to ensure that KS4 and KS5 students are placed on the most appropriate courses to suit their ability.  Mr Mitchell is an accredited SLT and is trained to deliver pupil premium reviews.
Mrs Clare Raku – Pastoral Advisor / English SLE
Mrs Raku began teaching in 2008 as a Teach First teacher in a challenging school in inner city Nottingham. She quickly progressed into Leadership following her NQT year, taking on roles including Whole School Literacy Lead and Second in English.
In 2013, she joined Sir Christopher Hatton Academy as Head of English, and the following year she was designated as an SLE and was appointed Assistant Principal at SCHA. In 2015, she became Senior Assistant Principal with oversight for whole school Teaching & Learning, as well as retaining strategic leadership for English. 
Most recently, Mrs Raku has been appointed as Vice Principal for Pastoral Standards and Student Support at Sir Christopher Hatton Academy. Through a combination of strategic overview, creative, practical solutions and careful monitoring, Mrs Raku ensures that behaviour and student support remain outstanding.
Mrs Raku has experienced 5 Ofsted inspections (3 in a Leadership role).  She is currently accredited to facilitate the Olevi Outstanding Teacher Intervention programme (OTP) and has recently completed the Cambridge Effective Classroom Observation course.
Mr Gavin Stanger – Attendance Advisor / Inclusion SLE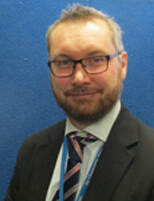 Mr Stanger has been a senior school leader for ten years, being part of the team which led Sir Christopher Hatton Academy on its journey from Grade 3 to Outstanding.
Originally from a science and curriculum leadership background, his primary responsibility as a senior leader has been the monitoring and intervention of specific groups in school; including ethnic groups, SEND and G+T and working on reducing progress gaps.  Mr Stanger significant experience of working with a wide range of data and indicators to formulate and evaluate effective improvement strategies in both academic and pastoral areas.
In recent years Mr Stanger has support the Trust primaries through the transition to 'life after levels' from an assessment and data perspective and making use of external testing to verify teacher assessments. 
Mr Stanger is an Strategic Leader of Education with the Trust's teaching school with specialisms for attendance, closing the gap, leadership of the curriculum and assessment.  Mr Stanger has an interest in the role of mentoring in school life and in research supporting pedagogical development.
Mrs Keren Gunn – Continuing Professional Development Advisor / SLE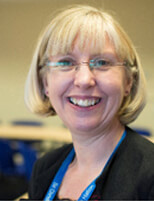 Mrs Gunn has been teaching in Northamptonshire for over 20 years, beginning her career as an English Teacher and moving rapidly into leadership roles as Second in English and later as Head of Sixth Form and Head of English. She has been teaching at Sir Christopher Hatton Academy since 2003 and was promoted to the Leadership Team in 2015, with responsibilities including SMSC. Mrs Gunn became  Teaching School Leader in 2016 when the Academy gained Teaching School Designation.
A career-long interest in personal, departmental and whole school CPD, as well as mentoring, coaching and developing colleagues, has run in parallel with her other responsibilities.
Mrs Gunn joined the National PSHE Association's Advisory Council in 2014 and has delivered workshops and training at several national PSHE events on the skills required of the non-specialist PSHE teacher and strategies for the delivery of the PSHE curriculum. 
Mrs Gunn is currently an Olevi Accredited facilitator for the Outstanding Teacher Programme and The Power of Coaching.  She is currently the chair of the Northamptonshire School Direct Network and a member of the University of Leicester Partnership Management group for ITT as well as working in partnership with the other Teaching Schools in Northamptonshire to deliver a range of CPD programmes.
Mr Peter Atkinson – Assessment / Curriculum / Maths SLE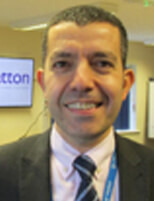 Mr Atkinson has over 20 years' experience teaching and has worked at a Senior Leadership level in 3 schools.
He has successfully coached participants to complete the National Professional Qualification for Senior Leadership (NPQSL) and delivered training and CPD at several Northamptonshire schools.
Mr Atkinson's speciality is assessment, data and reporting coupled with curriculum design and he is currently a Senior Assistant Principal at Sir Christopher Hatton academy responsible for assessing pupil progress, raising standards and leading the whole school intervention strategy. 
Mr Atkinson has navigated 3 Ofsted inspections at Senior Leadership level and has undertaken the Leading from the Middle programme and Leadership Pathways programme.
Dr Abby Bell – SLE Physics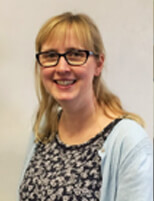 Dr Bell has been teaching since 2004, and is the Lead Practitioner i/c Physics at Sir Christopher Hatton Academy. Dr Bell has extensive experience mentoring ITT and NQT colleagues and delivers some of the University of Leicester's Physics subject specialism sessions for their PGCE students.
Dr Bell is an Ogden Teacher Fellow and co-ordinates the Wellingborough Ogden Trust Partnership which runs Physics events for students and CPD for teachers. The partnership consists of Sir Christopher Hatton Academy, Wrenn Academy, Wollaston School and Wellingborough School. The partnership aims to increase the knowledge and understanding of all Physics teachers, increase the uptake of physics at A-level and to encourage more students go on to study physics at university with some receiving Ogden Scholarships.
Dr Bell is also a School-Based Physics Coach for the Institute of Physics (IOP) working with schools to deliver bespoke physics CPD for their whole science departments, as well as CPD days based at Sir Christopher Hatton Academy which teachers from throughout the East Midlands attend.
Mrs Jennifer Coe – ICT / Business SLE
Miss Coe qualified in 2006 from the University of Worcester with a PGCE in Business Studies. She took the first steps in her teaching career in the county of Leicestershire where she taught Business Studies and ICT in 14-19 school for 2 years. She has since spent the last 9 years of her career working in Northamptonshire with 8 of those years working at Sir Christopher Hatton Academy; after being employed to take on the role of Enterprise Coordinator.
Miss Coe has since moved up into middle leadership having undertaken the role of Head of Business Studies and she has been in her current position as Head of the BICS Faculty for the past 4 years; where she has been working on improving outcomes and managing change across the faculty. She has experienced 4 OFSTED inspections, 2 of which were in her current role.
Miss Coe has experience in running large events for whole year groups, she has also worked with outside agencies to deliver Enterprise initiatives and was part of the initial stages of the Enterprise Advisers Pilot which was launched in Northamptonshire 2014.
Miss Coe has undertaken the OTIP training (Outstanding Teacher Intervention Program) and has experience in delivering staff CPD to staff across the academies trust and has recently facilitated the SSAT National Award for Middle Leaders (NAML) training.